Prognostic value of mutations in isocitrate dehydrogenase 1 (IDH1) and reverse telomerase transcriptase (TERT) in Argentine patients` gliomas
Valor pronóstico de mutaciones en Isocitrato dehidrogenasa1 (IDH1) y Telomerasa transcriptasa reversa (TERT) en gliomas de pacientes argentinos
Palabras clave:
gliomas, IDH1 mutations, TERT mutations, rs2853669, prognosis
Resumen
Background and aim: Gliomas are the most common primary brain tumors, and they are classified according to their histopathological and genetic features. Tumorigenesis depends on alterations in different genes. The aim of this study was to identify mutations in IDH1 and TERT genes in gliomas of Argentine patients and to correlate them with clinical features.
Methods. DNA was isolated from 19 biopsies with different glioma grades matched with blood samples. IDH1 and TERT mutations were identified by PCR amplification and sequencing.
Results. Six out of seven patients with low-grade glioma (grade II) harbor IDH1 mutations, mainly without tumor growth and an overall survival of more than 12 months. Eleven out of twelve patients with high-grade gliomas (grade III/IV) showed wild type IDH1, mainly with tumor growth and shorter survival than low-grade gliomas. Mutated TERT promoter was present in 5 out of 11 high-grade gliomas, showing the prevalence of polymorphic C allele, whereas, low-grade gliomas showed mutated TERT in 1 out of 5 gliomas and a predominance of T allele. TERT and IDH1 mutations were mutually exclusive in most gliomas.
Conclusions: Our results show that genetic tests provided more accurate diagnosis than histopathological analysis. Evolution of gliomas can be predicted primarily by the mutational status of IDH1 and secondarily by other markers, such as TERT mutational status, and the patient´s age.
Descargas
Los datos de descargas todavía no están disponibles.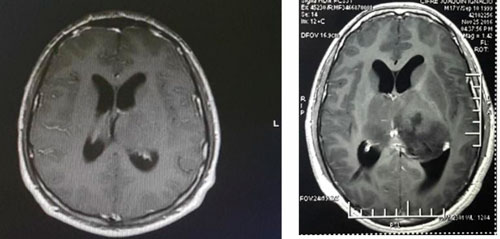 Descargas
Cómo citar
Funes, P. T. ., Moggia, D., Parma, D. L., Ferrer, M. ., Giliberto, F., & Szijan, I. (2021). Prognostic value of mutations in isocitrate dehydrogenase 1 (IDH1) and reverse telomerase transcriptase (TERT) in Argentine patients` gliomas: Valor pronóstico de mutaciones en Isocitrato dehidrogenasa1 (IDH1) y Telomerasa transcriptasa reversa (TERT) en gliomas de pacientes argentinos. ARS MEDICA Revista De Ciencias Médicas, 46(1), 12–19. https://doi.org/10.11565/arsmed.v46i1.1768
Sección
Artículos de Investigación
Licencia
Derechos de autor 2021 ARS MEDICA Revista de Ciencias Médicas
Esta obra está bajo una licencia internacional Creative Commons Atribución-NoComercial-SinDerivadas 4.0.